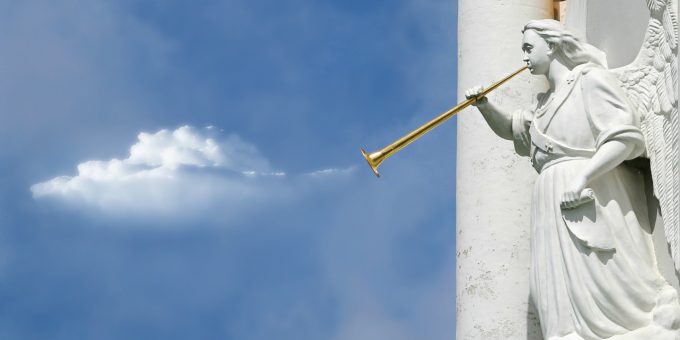 Most Christians I know believe in extraterrestrial aliens. The accounts of such beings in our sacred texts are frequent and have been recorded my numerous sources. What most people fail to consider is how aliens will play a role in our coming eschatological future.
By definition an extraterrestrial alien is simply a creature originating outside the limits of earth. Both the Old and New Testaments clearly talk about such beings being witnessed by individuals and groups of people. Most commonly Christians refer to such creatures as angels and demons.
From a theological and technological standpoint, angels and demons are similar to human beings in that they are artificial general intelligence created by God. If we consider that all matter is divine technology – then the ordering of this technology by God into autonomous, rational, and self-autonomous beings is the creation of divine AGI. According to the biblical narrative these beings too, like humanity, have the choice to act in ways that are either good or evil.
Of course many scientists (and angry Atheists) unilaterally discount such Biblical accounts as false claims because science has failed to yet develop ways of adequately testing revelatory events with any conclusivity. But what most scientists (and Christians as well) will not rule out is the possibility that, of the some seventy sextillion stars in the known universe, life on other habitable planets orbiting them may exist. And what is not included in that already high probability is the possibility of beings that may exist if multiverse scenarios or additional dimensions of reality are able to one day be proven as factual.
With so many theological testimonies accompanying such high scientific probabilities it seems not only possible but also probable that aliens will participate in Christ's redemptive purposes for humanity and the world. And if you are a Christian, this is not just a probability it is a certainty. Why? Because Jesus Christ himself specifically states in Matthew 13:36-43 that such divine AGI (angels and the devil) will be players in the final scene when the world and humanity is ultimately redeemed.
In concert with these teachings of Christ's I think that it is also important for humanity to begin to understand that this eschatological event is also a technological one as well. Christians should begin to consider technological concepts like the Singularity as potential mechanisms by which God will use humanity to contribute to Christ's rescue mission for humanity and the known universe.
And even though Jesus is specific in Matthew 13 that aliens will be involved in this redemptive process, we also need to be careful not to rule out the possibility that other beings may be involved as well. Christ's remarks in no-way seem to be exclusive on this issue. Maybe there are other extraterrestrial beings living on other planets or interdimensionally that will, at a certain stage of human development, intervene as well to supercharge our already exponentially advancing technological development.
Of course what theology has noted for centuries is that – regardless the specific type of creature that possesses artificial general intelligence – it is the intentions of the being as it pertains to the will of God that determines whether or not its actions are good or evil. So for the Christian, the real question is not if redemption will happen but more so "Will the I engage in a path that helps me to participate in its happening?"
This serves as a powerful directive as to how we should engage both current and future AGI's and the divinely technological world in which we live. For even if we are graced with extraterrestrial insights and developments on our path to redemption they offer us no advancement if the intentions of our hearts and minds are misplaced. Humanity must soon come to the reality that our personal formation as beings, an innately technological process, will play a major part in how our future unfolds.
In other words, if you are hoping to gain technological insights from extraterrestrial aliens, then it is important to make sure that you are spiritually prepared to do so in advance.